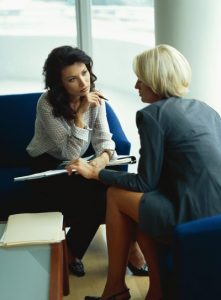 The quality of a therapeutic relationship depends on the ability of the healthcare provider to communicate effectively. The term "therapeutic communication" is often used in the field of nursing; however, the process isn't limited to nursing. Other healthcare professionals, friends and family members of a patient can implement the strategies of communicating in a therapeutic manner. The ideal therapeutic exchange provides the patient with the confidence to play an active role in her care.
Facilitates Client Autonomy
Therapeutic communication techniques, such as active listening, infer autonomy or independence on the patient or client. Rather than making assumptions about the client who is almost a stranger, the healthcare professional facilitates therapeutic expression. The client, ideally, will then become more comfortable sharing potentially difficult information. The role of the healthcare professional is then to use this information to help the client to further investigate his own feelings and options. In the end, the client gains more confidence in making decisions regarding his care.
Creates a Nonjudgmental Environment
Perhaps the most important characteristic of a therapeutic relationship is the development of trust. Trust facilitates constructive communication; it also encourages confidence and autonomy. Being nonjudgmental is necessary in verbal and nonverbal communication. People are acutely adept at identifying nonverbal cues that may communicate something very different from what is said.
Provides The Professional With a Holistic View of Their Client
An individual does not usually exist without a network of family, friends and healthcare professionals. Therapeutic communication emphasizes a holistic view of a person and his network of people who provide support. A person's individual perspective regarding his health and life is viewed through a lens built from the context of his experiences. Those experiences cannot be ignored when communicating in a way that is therapeutic. Within the therapeutic relationship, the individual is learning the skills of communication with other people in his life, ideally also improving those relationships.
Reduces Risk of Unconscious Influence By The Professional
It's human nature to want to infer some part of yourself into an interaction; however, in order for therapeutic communication to occur, it's important to temper your influence. Therapeutic communication requires maintaining an acute awareness of what is being said as well as any nonverbal cues. Communicating that you are open to hearing what a person has to say while folding your arms creates confusion and inconsistency that can mar a healthy interaction. Be aware of your tone of voice and any reactions.
By Maura Banar
Originally Published By Livestrong.com